Community
Dealing with a meetup organisers worst nightmare
On Thursday 4th February we held our 17th SydCSS. It was going to be an easy event for us. Speakers were lined up, the venue was booked, we had people at the venue prepped ready to set up the space as we needed it. We even had a little extra sparkle lined up in the form of the CSS Working Group being in town, and one of their co-chairs lined up as a surprise speaker. All was going swimmingly, but then at 11:48am on the day of the event we received a call that there was a major problem at the venue and they might not be able to host us.
If you run a meetup, this is a disaster. SydCSS can easily attract over 100 people and finding a new location with only 6 hours and 42 minutes before you open the doors is not an easy task. But if you go and look at the feedback we've had from that night you'll see that it was one of our most popular events.
How did we pull together the event at the last minute, and avoid having to cancel? Fiona has written a wonderful post about how the SydCSS community rallied around us to help pull this off. This post is a companion Fiona's, to help other event organisers keep a cool head and work to find a solution to problems. Here's how we played it:

Communicate with your co-organisers
Communicating what you're going to do to fix the problem is the most important thing you need to get right. The venue cancellation news is stressful for all the organisers of your event so you need to communicate often and well.
Every step that follows includes frequent, focussed communication to make sure the organisers and volunteers know what is happening. Speak to people on the phone. Use Slack, Hangouts, Twitter whatever you need to do to keep information moving, but ensure that only one or two people are the authority on what's going to change.

Be organised
We are notoriously organised with SydCSS and we spend a great deal of time on every detail and we treat each event like a conference.
Speakers are encouraged to join us for rehearsals in the lead up, we have heaps of our own equipment for running an event (we often have a projector in one of our backpacks just in case), and we are incredibly strict with timing for the night (we can tell you what time each presenter will start and finish, and exactly when the break will be).
All of this organising isn't because we're control freaks, it's because we know our community's time is precious and we want them to have the best time possible. Once the event starts we want a smooth 90 minute show that leaves people wanting more.
With so little of the event left to chance, a problem with the venue becomes just one variable that you need to fix. If we fix the venue problem we have confidence that the night will be a success.
Plan for disaster
Our level of organising extends to speculating what problems might occur, we have a document called "Planning for disaster". It covers a variety of scenarios that could happen, imagines the impact on the event and suggests steps we could take to mitigate the problem. The key thing about this document is that it gets you thinking about what you might do if a problem strikes. If something bad happens at least you've had it in the back of your mind for some time.
Make a Plan B, Plan C and Plan D
With so little time on your hands you need to give yourself options, these options need to be explored in parallel to save you time. To replace the venue think in terms of; location, capacity, and time to confirm availability.
Our Plan B was to use one of our previous venues nearby, but we knew giving them such late notice would be hard and it would take them time to confirm if they could help us. Plan C was an untested smaller venue, nearer the original location but the confirmation was immediate.
Confirm that the original venue is a 100% no go
The news about the venue wasn't a definite no, we were told that we would have a final answer around 1pm, but this wasn't guaranteed. This puts you in a tricky situation, do you gamble on the original venue or do you put your other plans into action?
The best thing you can do here is give yourself the deadline and put yourself back in control, if you don't get a definite yes by your deadline you go full steam ahead with your back up plan.
Don't just wait for the deadline; start your backup plan NOW!
We set the deadline at 2pm. Giving us 2 hours to pick our best option and figure out how to make it work. We chose the untested venue due to its location and confirmation of availability. We drew up a list of all the things this venue would need to make it work. Some of the things we needed to do were:
Find a projector and screen as the new venue didn't have either
Locate some chairs and transport them to the venue
Notify any deliveries that the venue may change
Find mic and speaker system for the new venue
Re-arrange the venue to maximise space
Reduce the ticket allocation to ensure we're not over capacity
Notify the community that the venue has changed
Put signs up at the original venue, incase anyone missed the notifications
2pm came and we still didn't have a yes, so we locked in the new venue.
Get help and use it wisely
The community we have around SydCSS is very special, we get wonderful feedback about how people love the nights and we have a small army of people who are always keen to roll up their sleeves. With the situation we were in they all came to our aid and asked us what they could do to help. With so little time for this small army to work wonders you need to give people good direction on what you need them to do. How should the room be setup? Who's going to help get the news out of the changed venue? Who can help rearrange the furniture? Who can transport all the chairs to the new venue? Who can get ice and where will they go to get it? Discuss what each of these things need to be, then once a decision is made tell the team to go for it. No dithering.
If you're sending people out to collect things, phone ahead to make sure you're not sending them on a wild goose chase.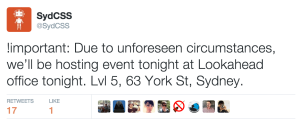 Get the audience ready
There are two things you need to do with your audience; first make sure they know where the new venue is and then reduce the audience size if the new venue is smaller.
We use meetup.com for SydCSS, any changes we make to the event can trigger an email to notify people of the change, this will take care of most of the audience being aware. We're also fairly active on Twitter, so we use this as a secondary way to alert people by encouraging others to pass the message along.
Our original ticket allocation was 120. As soon as we knew the venue could be smaller we reduced the ticket allocation to 100. This meant there were 120 tickets still out there. On the final day of an event it's usual that a small number of people will release their tickets, thus by SydCSS reducing the cap, those tickets won't be picked up again by others. Over a few hours you audience size will shrink to the size you need. We also factor in a 30% – 40% of no shows (people who have a ticket but don't come) on any given night.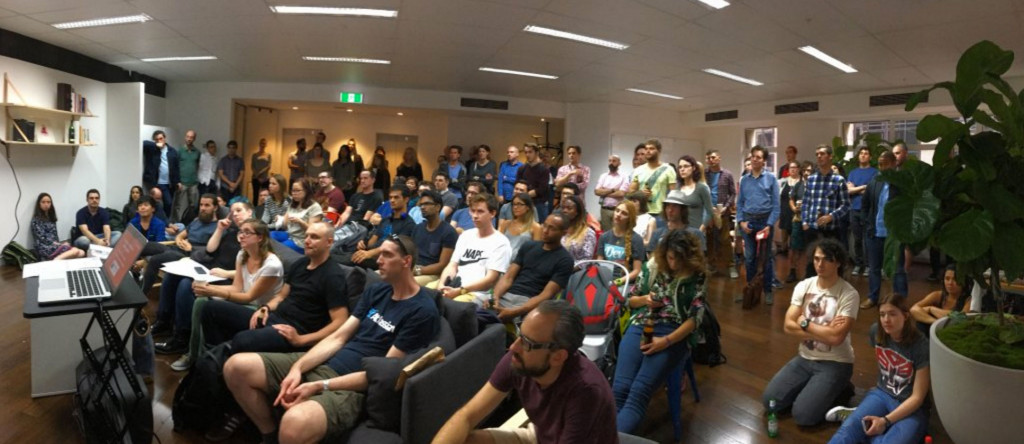 Enjoy your night
One of my favourite comments from the night came from my good friend @diversionary:
"If this was a pop-up event where people didn't know the location until a few hours before, no one would have known the problems today."
Everything came together for us, the amount of people fitted into the venue perfectly; not too empty not too full. The drinks arrived on time, and we had ice to keep them cool. The popcorn machine worked perfectly and our "popcorn chefs" looked the part and did a fantastic job. There were just enough chairs to tier the audience so everyone could see. The presenters were fantastic, the CSSWG showed up to support us. The projector worked (almost) perfectly. I think we even managed to record the talks (need to check that).
We received a 5 star rating on meetup.com and countless positive comments from new members who had a great time.
GO TEAM!